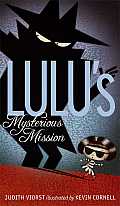 Lulu's Mysterious Mission by Judith Viorst
If you are looking for a laugh, look no more!  This third book about Lulu had me laughing out loud.  I had not read any of the books about Lulu, so there is good news for those who haven't read the other two titles; it really made no difference to start with the third!  On a side note, the third book is illustrated by Kevin Cornell, rather than Lane Smith, who illustrated the first two.
Lulu's parents have gone on vacation, but Ms. Sonia Sofia Solinsky is no ordinary babysitter.  Lulu does her best to get rid of her, until Triple S reveals her secret code name, and promises to train Lulu as a spy.  Of course, Lulu hopes her parents will take many more vacations in the future.
I highly recommend Viorst's chapter book.  It has lots of white space, great illustrations by Cornell, and humor which will motivate any reader.