Author Archive
April 1, 2013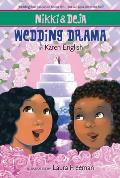 Nikki & Deja by Karen English
If your daughter is a reader who likes series, then the Nikki & Deja books may be perfect for her.  Next door neighbors and best friends, the stories revolve around the girls' third grade classroom and other real life situations, like braiding hair, forming clubs, seeing their teacher at the store, and dealing with everyday feelings.
The five books can be read in any order without losing anything, so there is no reason not to jump right in.  I read the newest book called Wedding Drama, and felt satisfaction at the sensible and loving solutions that Auntie Dee provides for Deja, (although I was somewhat surprised that a teacher would hold a drawing for invitations to the wedding!.  I suppose that's how reading can open your mind to possibilities that you may have never considered.)  Nikki and Deja are African-American characters, which is a notable feature in series fiction.
Nikki and Deja are on the Beginning Chapter Books list on Kids' Brain.  I also wanted to find similar books that included African-American girl characters, so I used Novelist.  Once you click on the link, and enter your barcode, Novelist is a great resource for book lists by genre and age!