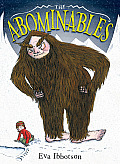 The Abominables
By Eva Ibbotson
Illustrated by Fiona Robinson
Years ago in the Himalayan Mountains, a young aristocratic girl by the name of Lady Agatha Farlingham was kidnapped by a yeti father who needed someone to raise his motherless children.  Luckily Agatha discovered that the yetis (also known as Abominables) were not in the least monstrous. In fact they were vegetarians and were so gentle that they apologized to grass and fruit before they ate it.  Lady Agatha loved her yetis and spent a long and happy life with them, teaching them human speech as well as English values and manners.
Fast forward 100 years….Lady Agatha is now an old lady who has led a very happy life with her yeti family.  Knowing that she cannot live much longer, she realizes that her family of yetis are in danger of being discovered by the outside world.  With sensation-seeking tourists hot on the yeti's trail, Lady Agatha recruits two English children to come to their rescue and lead the yetis on a long journey to her ancestral home in England.
Along the way, the children and the yetis have unforgettable adventures, many of which are quite puzzling to the yetis whose only knowledge of the outside world comes from Lady Agatha's experiences 100 years before.  These gentle creatures with backward-facing feet (which make them hard to track) are a mixture of gentle kindness and naiveté resulting in a touching yet humorous story which extends to the line drawings that suitably enhance the storyline.
Published posthumously by Eva Ibbotson's son Toby and her editor Marion Lloyd, this is a memorable and fitting finale for a talented and treasured author.
Recommended for children in grades 4 through 6 who enjoy a bit of humor with their fantasy.  It would also be terrific as a read aloud.
Reviewed by Connie (Parr Library)