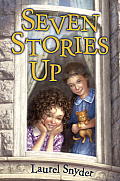 Seven Stories Up
By Laurel Snyder
12-year-old Annie Jaffin has always wanted to meet her grandmother but never has.  Unfortunately Annie's mother has always wanted to keep them apart and Annie has never been able to understand why.  That is, until the day her mother is summoned to Baltimore to say her final "good-bye" to Annie's grandmother who is very ill and possibly dying.  As it turns out, Annie's mother has been protecting her from her grandmother who is a mean, spiteful and angry person even on her death bed. After a particularly awkward first meeting, Annie is hurried off to bed and is magically transported in her sleep to a hotel room in 1937.  There she meets another young girl her own age named Molly, whom she soon discovers is her grandmother as a young girl.  Without revealing their relationship, Annie becomes close friends with Molly and slowly uncovers her grandmother's past and reasons for her behavior as they experience adventures together throughout Baltimore in the 1930's.
Seven Stories Up is a skillfully written story of family relationships, friendship, historical fiction and time travel. Sprinkle it with magical realism and you have a finished product that grabs at the heart strings, pulls you in and doesn't let go. I love the thought of going back in time and meeting my grandmother (or mother) as a young girl. Snyder handled it beautifully from beginning to end. I loved it!
Highly recommended for grades 4 through 6.
Reviewed by Connie (Parr Library)