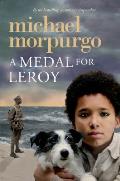 Posed as a story within a story Morpurgo tells a tale of prejudices, secrets, families and love. Michael grew up in London in the 1940s. He didn't have a father, just Maman. He looked different from most of the other boys. They called him "Poodle" for his frizzy black hair and because his mother was French.
There were two others in the family, Auntie Pish and Auntie Snowdrop they called them, who lived by the sea. Maman and Michael made regular visits to the aunties. Michael didn't enjoy these trips but he did like to play with their dog Jasper and Auntie Snowdrop was always especially kind to him.
Michael knew so little about his father. The aunties had raised the orphan Roy together. They revered a framed photograph of him and reminded Michael how much he looked like his father. Roy, an RAF pilot, had several medals for bravery but was shot down and killed in 1940.
Several years after Auntie Snowdrop died Michael discovered a legacy from her. Behind the photo of his father she had tucked a story letter entitled "Who I am, what I've done, and who you are." It explained everything.   
Michael knew he had to make things right.
This sensitive, bitterweet story is recommended for ages 9+.