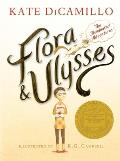 Flora & Ulysses: the Illuminated Adventures
By Kate DiCamillo
Illustrated by K.G. Campbell
10-year-old Flora Belle Buckman is a self-professed "cynic" who loves comic books…and a squirrel!  This is not just any squirrel but a "superhero" squirrel with superpowers.  And how, you might ask, does a squirrel acquire superpowers?   Would you believe through a near fatal encounter with a vacuum cleaner?  Strange but true!
As the Ulysses 2000X indoor/outdoor vacuum cleaner runs amuck in the yard next door, Flora is looking out her window and watches as a squirrel lingers too long in its path and is vacuumed up like a dust bunny.  "Holy Bagumba!" says Flora and runs to the rescue with CPR.  The rather hairless squirrel that comes back to consciousness finds that he has unusual thoughts in his head beyond those that focus on food. Even more peculiar is his super strength which is revealed when he is able to lift up the vacuum cleaner with one paw to remove the crumbs underneath.  This and the fact that he can now understand human speech convinces Flora that he is a superhero and names the squirrel "Ulysses" like the vacuum cleaner.  As Ulysses continues to demonstrate other powers, Flora becomes more and more determined to protect him from his "arch-nemesis".  One not-so-small problem….that individual is her mother who is determined to destroy him.  This triggers a chain of hilarious events with other quirky characters in the story and helps Ulysses become a true hero to Flora by helping her discover her own self-worth.
Once again DiCamillo has written a gem of a book filled with humor and sensitivity, rich with vocabulary reminiscent of a bygone age and paired with an illustrator who furthers ("illuminates") the action of the story with comic book style art.
Enthusiastically recommended for grades 4-6.
Reviewed by Connie (Parr Library)