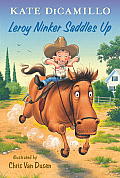 Leroy Ninker Saddles Up by Kate DiCamillo
Leroy Ninker dreams of being a cowboy, but he needs a horse. He receives sage advice about choosing the right horse, by checking its teeth and hooves. I laughed out loud, and I think you will too, when you see the picture of Leroy meeting Maybelline for the first time. Each character in this story is larger than life and made me chuckle.  You'll love the illustrations by Chris Van Dusen!
Leroy Ninker Saddles Up is the first title in a new series for early chapter readers called Tales from Deckawoo Drive.  If you have read the Mercy Watson books by Kate DiCamillo, illustrated by Chris Van Dusen, you might remember Leroy Ninker.  Mercy Watson books are for beginning readers and the Leroy Ninker books are a step up from those.
This book is a new favorite!  I'm looking forward to sharing it with friends.