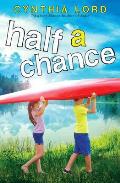 Half a Chance
By Cynthia Lord
12-year-old Lucy loves photography and longs to have her talents noticed by her father, a famous nature photographer.  When the opportunity to enter a photography contest for young people arises, Lucy eagerly grabs it. Unfortunately, as Lucy discovers, there is one problem….her father is the contest judge which will probably make her ineligible.  However, with her father away for the summer on assignment shooting photographs in Arizona, Lucy decides to take this opportunity anyway and chronicle her summer at the lake in New Hampshire where they have recently moved.   Along with her new friend Nate, the boy from the cottage next door, Lucy captures photos of the family of loons on the lake, as well as, Nate's family and their adventures kayaking and hiking the beautiful New Hampshire outdoors.  As Lucy comes to know Nate and his family, her camera unexpectedly reveals truths that his family doesn't want to see – his beloved grandmother's slow decline into Alzheimer's.
The sweetness and honesty of Lucy's captured moments on film emphasizes the importance of savoring every moment and enjoying it in the present – a lesson no one is ever too young to learn.
Recommended for grades 4 through 6.
Reviewed by Connie (Parr Library)