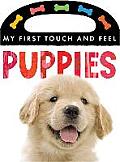 This board book combines simple text with adorable puppy pictures, each one with a sensory aspect. Your little one can touch fluffy fur, a soft pink tongue, silky fur, a smooth ball, and a shiny bright blue bow.
Though the words in the book are few, you can increase your child's vocabulary by having him/her describe the pictures to you (or you can describe them to him/her if they aren't yet verbal enough)
Having your child touch and feel the different textures can also improve their hand-eye coordination.
Books that incorporate textures for little hands are super engaging, and when they are combined with real puppy photos, that's a jackpot in my book. Happy reading!