I couldn't resist writing about these two books written and illustrated by Carin Bramsen,  Hey Duck and Just a Duck! The  illustrations are large and  beautiful and so realistic you just want to reach out and touch each fuzzy animal.  Speaking of animals we meet duck and cat.  Duck is an extremely friendly fellow and he is sure he has found a new friend, another duck.  He keeps asking the duck why is tail is so long?  Why doesn't he like to swim in water?  Why doesn't he quack?  You might be able to guess that his new friend is a cat.  Cat gets quite annoyed at this pesky duck but eventually responds to duck, "My sense of ME has gone AMUCK!" and begins to quack just like duck.  They form a bond through this adventure and their friendship is sealed.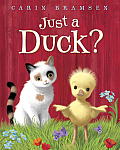 Just a Duck? the sequel begins with duck deciding to become a cat.  Even though both cat and duck realize he looks nothing like a cat, duck is sure he can grow into a cat. Duck tries to walk like a cat, meow like a cat and act like a cat so you can imagine how silly this  duck is portrayed.  With considerable regret, duck has to come to the realization that he is just a duck!.
I enjoyed reading both of these books and the interactions between the duck and cat were both hilarious and enjoyable to read about.  These are great books for for our youngsters to enjoy with their parents or in a group setting.  These two books just bring a smile to your face.