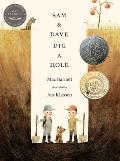 Sam & Dave Dig a Hole by Mac Barnett with illustrations by Jon Klassen
Sam and Dave are on a mission to dig a hole in search of something spectacular.  As they try to figure out the best strategy, the reader (and the knowing dog) see the big gems that the pair are missing.  When they fall asleep and free-fall through the deeper hole, they end up falling from above, back to where they were before…or is it?  With sepia-toned illustrations, spare text and the reader in the know, children will enjoy the surprise ending.
This story reminded of that child-like belief that you can dig a hole to China, and the illustrations brought to mind that classic, A Hole is to Dig by Ruth Krauss.  Enjoy!