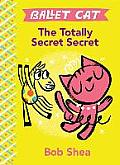 Ballet Cat: The Totally Secret Secret by Bob Shea
It's no secret that I love Bob Shea's books, and now he has ventured into the world of early readers!
Good friends, Ballet Cat and Sparkles the Pony, are trying to find something to play.  Of course, Ballet Cat loves to dance, so Sparkles goes along.  When Ballet Cat realizes that Sparkles doesn't seem happy, Sparkles reveals that he has a totally secret secret!  Readers will love this funny story that has a warm and fuzzy ending.
If your reader loves the Gerald and Piggy books, or the Frog and Toad books, they will love this one too.