In honor of Star Wars Day earlier this week (May 4) and George Lucas's birthday later this month (May 14), here are a few free Star Wars apps that your entire family can enjoy.  While we encourage you to review any app prior to play, here are a few to explore.
Angry Birds Star Wars II by Rovio Entertainment Ltd
Ages:  4+
Require:  iOS 7.0 or later or Android 4.1 and up
Compatibility:  iPhone, iPad, iPod touch, and Android
If you enjoy the classic game Angry Birds, you're sure to like this Star Wars version.  Content is based on the Star Wars prequels, and as in the original game, you must strategize to defeat the evil Pork Federation by collapsing structures around the pigs.  If you unlock enough levels for good, you can also join the Pork Side and play as the pigs.  Levels include 5 chapters, rebels, a reward chapter, and the chance to master your own destiny.
This game uses the ideas of physics, magnetism, and gravity to develop strategy.  Each level challenges you to earn stars by completing it most efficiently.  If you're not familiar with how to play, instructions are shown in picture format; if you've played before, it's easy to pick up.  However, this app does have many in-app purchase opportunities to improve play.  While not required, they are a constant presence.  If you enjoy this game, you can also download the original Angry Birds Star Wars, with content from the original movie trilogy.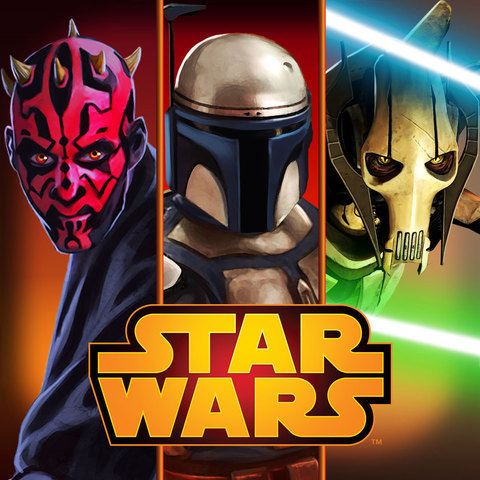 Star Wars Journeys:  Beginnings by Disney
Ages:  6-8
Requires:  iOS 7.0 or later
Compatibility:  iPhone, iPad, and iPod touch
Explore the three Star Wars prequels.  In each module, you'll find a story experience, profiles of the characters and ships, and an activity.  In the free version, you'll get 15 scenes with original movie art; an additional 40 scenes are available for in-app purchase.  Listen to the story while also scrolling through a panorama of the scene.  As you do, you'll unlock character profiles, which later appear in their own section of the app as facts presented in trading card format.
Each module also has its own activity, including pod racing and battles.  While there are some instructions for how to play, there is little help available, to you'll need to learn by trial and error.  However, game play can be set at easy, medium, or difficult levels, so you can customize each experience.  Most game controls are based on tapping, holding, sliding, pinching, and swiping motions.
Star Wars:  Galaxy of Heroes by Electronic Arts
Ages:  9+ (infrequent/mild cartoon or fantasy violence)
Requires:  iOS 8.0 or later or Android 4.1 and up
Compatibility:  iPhone, iPad, iPod touch, and Android
Instead of focusing on the Star Wars stories, this game is all about strategy and combat.  Collect and equip both dark side and light side heroes – it's totally up to you!  Create your team by choosing its members based on their abilities, and then equip each member with appropriate gear and tactical moves.
While there is fighting, this app stays away from blood or graphic violence; instead, beaten characters disappear from the screen.  As with many of the other Star Wars apps available, this one offers in-app purchases tied to the game and the Star Wars franchise.  This app also requires an internet connection to work.
Want more Star Wars fun?  Check out Common Sense Media's Star Wars Age-by-Age Guide.  Covering ages 6-13, it includes games, apps, websites, movies, books, and even discussion questions to share with your family.  Need more book suggestions?  Check out this list by Tom Burns for Star Wars books for all ages, from preschool up to teens.