Earth Day is coming up on Friday, April 22.  It was first celebrated in 1970, and today, at least 192 countries participate in the movement to celebrate our planet.  It's a wonderful chance for you to teach your child about the environment.  To help you get ready for Earth Day this year, here are a few free apps all about our planet.
WWF Together by World Wildlife Fund
Ages:  4 and up
Requires:  iOS 7.0 or later or Android 4.0 and up
Compatibility:  iPad and Android
Learn more about the world's most endangered animals in this beautiful app.  Explore in-depth, interactive stories of 16 different species.
Animals:  Select the animal icon and choose your animal.  Navigate through the grid (instructions are provided on-screen) to learn more about the animal you've selected.  Information varies by animal, but may include things like photographs, fun facts, threats, and conservation efforts.  Once you've completed a story, fold it up into an origami version of the animal.  Plus, you can download a copy of the origami instructions and make your own.  You can share your video on Facebook and Twitter, or via email.
Globe:  Select the globe icon to learn more about WWF's current focus animals.  You can spin the globe to see where different animals live and learn more facts about them.  If spinning the globe is too difficult, there is also a text menu available with all the animals listed.
Emails:  Subscribe to WWF emails to learn more about their ongoing conservation efforts.
News:  Read news directly from WWF regarding their work.
Navigation of the app is fairly easy, although the menus can sometimes be hard to see on the background.  Music can be turned on or off by tapping an icon.  Some features in the app require an internet connection to work properly.  Overall, this app is full of great features for you and your child to explore independently or together.
Nature Maestro Challenge by Earth in Concert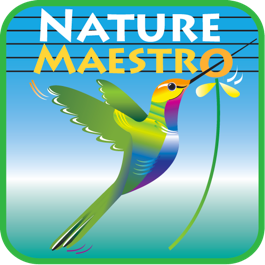 Ages:  9 to 11
Requires:  iOS 8.4 or later
Compatibility:  iPhone, iPad, and iPod Touch
Test your memory skills while learning more about nature!  The images used in the app are quite colorful, and the sounds were recorded live in Costa Rica and Alaska.  Choose from one of four different games.  To play, simply tap each tile to flip it over and see if you can find the match.
Match Images:  Match pictures of different animals to each other.
Match Images to Sounds:  Match pictures of animals with the noises they make.
Match Sounds:  Match different animal sounds to each other.
Match Images and Hear Names:  Match pictures of animals and hear the animal names pronounced.
This app explores several different animals, including the howler monkey, ibis, ocelot, humpback whale, and more.  Use the animals as a starting place for even more research.  Change games easily by tapping the bird icon.  The game you are playing displays clearly at the top.  If you get lost or have questions, the question mark icon provides an audio help menu.  If you enjoy this game, Earth in Concert offers several other apps available for download as well.
The Four Seasons – An Earth Day Interactive Children's Story Book HD by TabTale LTD
Ages:  4 and up
Requires:  iOS 6.0 or later or Android 4.0.3 and up
Compatibility:  iPhone, iPad, iPod Touch, and Android
Enjoy an interactive story book experience all about taking care of the planet.  As an added bonus, learn more about the four seasons while you read, too.  Once you open the story, you can choose to read independently or have the story read to you.  Each page in the story has interactive elements.  The text tells you what to do for each task.  Plus, each page includes an additional game element, accessed from the block icon in the top right corner.  Challenges here include puzzle games and matching challenges.
Navigation of the story is simple – just use the forward and back arrows to change pages.  If you run into trouble, the For Parents menu on the home screen provides information and troubleshooting tips.  One downside to this app is the persistent adds, which constantly appear at the bottom of the screen.  Returning to the home menu is a little bit challenging, as you have to go back through the "bonus" menu for the page and then find the house icon in the bottom left corner.
Note:  If you're looking for this app on Google Play, try searching for "Earth Day:  Kids Seasons Story."
If you're ready to start celebrating the planet today, be sure to check out some of our upcoming nature programs:
Critterman – Saturday, April 9 at 3 PM – Parr Library:  Meet amazing animals from around the world in an Extra Furry adventure.  No snakes!  Meet the toughest animal in all of Africa, a cousin of the kangaroo, an animal famous in American history, and more!
Preschool in the Park – Wednesday, April 13 at 11 AM – Parr Library:  Let's take storytime outside!  Join us at Coyote Creek Park for a special preschool storytime.  Ages 3-5.
Earth Day Crafternoon – Friday, April 22 at 3:30 PM – Davis Library:  Join us for some Earth Day crafts using recycled materials.  How creative can you get?