Many parents wonder whether sharing stories with their children on tablets or other devices counts as story time or screen time.  Digital books are a great way to provide access to books, especially on the go.  No matter what type of book you use, your story times should include imagination, curiosity, and conversation.  If you choose digital picture books, make sure that the actual story doesn't get lost in all of the animations and activities included in the app.  Apps like Goodnight Safari provide an interactive reading experience while still maintaining elements of a "traditional" reading experience.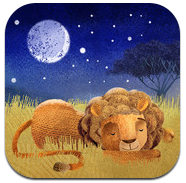 Goodnight Safari by Polk Street Press LLC
Ages:  4+ (made for ages 5 and under)
Requires:  iOS 4.3 or later
Compatibility:  iPhone, iPad, and iPod touch
Goodnight Safari is an interactive e-book that lets you read alone or with a narrator.  You're at the center of the story as you help the animals get ready for bed.  The story takes place in the African savanna, and includes well known animals like zebras, but also lesser known animals like leopard tortoises.  Simple vocabulary and intuitive interactions help children follow the plot.  The main menu allows you to choose "Read to Me" or "Read Alone," as well as "Pick a Page" to go to a favorite scene in the story.  The sound can be on or off in the app.  Additional activities are also available for a fee; a previous for each is available from the menu prior to purchase.  Activities include color identification, counting, and matching.
In "Read to Me" mode, a narrator reads the words on each page.  The words spoken are highlighted as they are read so that you can easily follow along.  In "Read Alone" mode, you can read the text yourself, at whatever speed you choose.  In each of the seven interactive scenes, you can help the animals prepare for bedtime following instructions given in the text.  Young children can simply follow the directions for each scene.  Older children can more fully explore each scene, touching different elements to see how the story interacts.  If you take too long, a graphic appears on the screen to highlight where you should touch to move the story along.  An arrow at the end of each scene advances to the next "page" in the story.
Elizabeth Stilwell has some great tips for sharing digital books with your children here.  Start by reading this story together without narration.  You can share the story like you would a physical book – pausing, asking questions, using silly voices, or even making up your own story.  You'll also move through the book at your own pace, and you can return to pages as often as you like.
For more app recommendations and examples, be sure to join us for App Time at 11:15 on Tuesday mornings at Haggard Library or at 11:00 on Wednesday mornings at Davis Library.  Our storytimes will take a brief break for the holiday season starting December 12, but be sure to check out our full calendar online or in our Engage brochure to see more upcoming programs.  Happy reading!