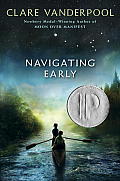 Navigating Early by Clare Vanderpool
 If you want a deeply layered story with thoughtful characters, then this just might be the book for you!  Navigating Early is also an adventure quest.  It took a while for me to start piecing it all together, but I loved it and didn't want it to end.
At the end of World War II, Jack's mother has died, and his father decides to send him to a boarding school in Maine.  It's a strange new world compared to Kansas.  At first he tries to fit in with the other boys, but he ends up retreating into a friendship with Early Auden.  Early is different than the other boys (in today's language he might be described as being on the autism spectrum).  When the two end up alone at school, Jack goes along on the venture Early has planned to find pi and a great black bear on the Appalachian Trail.  If you are a stargazer and a dreamer, you'll love the many connections that Jack and Early make on their journey.
This is Vanderpool's second novel.  She won the Newbery Award for Moon over Manifest, which is another complex and worthwhile read.