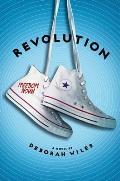 Revolution by Deborah Wiles
Revolution is the griping second book in The Sixties Trilogy by Deborah Wiles. It is the summer of 1964 and everything in Sunny Fairchild's life in Greenwood, Mississippi has changed. Her father has remarried, bringing a stepmother, new brother and new sister into her life. As if that weren't enough to cope with she learns the local pool has just been shut down. Soon Sunny learns the issue is bigger than she realized.
This is Freedom Summer. Many local business owners in Greenwood, MS refuse to comply with Federal orders to serve blacks by closing their operations. Members of Congress of Racial Equality (CORE) and National Association for the Advancement of Colored People (NAACP) stage protests and promote understanding. Volunteers from Student Nonviolent Coordinating Committee (SNCC) and Council of Federated Organizations (COFO) begin to flood the south to register black voters and  start Freedom Schools, Community Centers and Freedom Libraries. The hot Mississippi summer gets hotter.
Against a backdrop of period photographs, hundreds of quotes and song lyrics, Wiles helps readers understand the history, human determination and political powers of that important time. Through her alternate storytellers, Sunny and a young black boy, she reveals a vast array of reactions from ordinary people: confusion, hatred, altruism, denial, love and awareness.