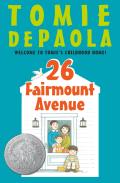 26 Fairmount Avenue by Tomie DePaola.
Once and awhile I come across a book that I term "lost in the stacks."  This is a book that is cataloged in a place that is not usually browsed by parents and children, or it might even just be on the bottom shelf, and no one bends down and sees it!  Many times, if not "lost," the book would be out because it's really good stuff!
26 Fairmount Avenue by DePaola falls into this category in my library.  It is a short chapter book, the first written by DePaola who is a favorite with young children for Strega Nona and Big Anthony. It is also the first in a series of chapter books centered on DePaola's family memories.
I think the series is a great read-aloud for young families who would like to begin their venture beyond picture books.  DePaola tells about his extended family in a matter of fact way, and children will learn about everyday life in the 1930's and 40's.  At the end of one chapter, DePaola describes his mother crying, and his father using "bad words" as they struggled with the ups and downs of building their new home.  DePaola doesn't sugar coat his memories, but it's still told in a way that is accessible to children.  One of his other memories involves seeing the Disney version of Snow White for the first time, and being upset that it wasn't the true version that his mother had read to him.
Why not "find" this book today?  I'm glad I did!