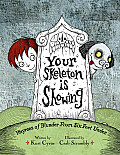 Your Skeleton is Showing: Rhymes of Blunder from Six Feet Under by Kurt Cyrus
Gruesome, yet oh so funny!  I've always had a soft spot for silly poetry, and this new book by Kurt Cyrus fits the bill.
Set in a cemetery, a boy and a ghost dog go from grave to grave looking for the dog's master's tomb.  Along the way the fate of each member of the graveyard is set to a poem.  Can you imagine what happened to Michael Gann the garbage man?  And who is buried in the grave with the mysterious letters, EIEIO?  Freddy Diggs dies because he won't listen to his mother; this poem elicited a nice "ewwww!"  Wordplay creates subtle humor, so be sure you read what happened to Mary Lou South.
Your Skeleton is Showing will be a great family read-aloud.  You might just find your kids fighting over the chance to read it again by themselves.