One of my favorite Christmas picture books, an old standby from 1963 which has since been re-issued in full color, remains a fun read today.  I hope you enjoy it, too.
"Mr. Willowby's Christmas tree
Came by special delivery.
Full and fresh and glistening green–
The biggest tree he'd ever seen."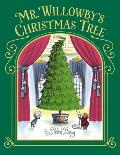 That was the trouble. The tree was so tall, it couldn't stand up straight in his parlor. Mr. Willowby asked his butler to chop off the top of the tree. What happens to the treetop? Where will it be for Christmas? Snuggle up with this story and follow along through a forest full of friendly creatures who get to share in a bit of Christmas joy (from Scholastic).