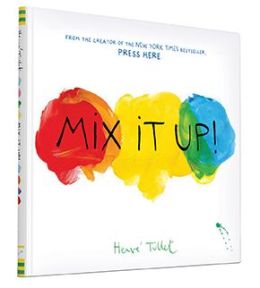 Mix It Up by Herve Tullet is a wonderfully interactive picture book, and a fun introduction to colors and color mixing.  Directed to tap here and rub there, readers and listeners mix the colors on the pages of this book.  With its generous white space and splotches of paint color, the reader is invited to "with one finger take a little bit of the blue…and just touch the yellow.  Rub it…gently…"
And with a page turn, "see?" the reader sees the splotch of green that they've made!
Herve Tullet gave new meaning to an interactive picture book with Press Here, and this title follows in that same vein.
A delightfully fun reading experience that hopefully leads to some actual play with paints and colors!
Read the book, get some finger paints…and MIX IT UP!