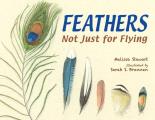 There are so many great new books about birds!
I was enamored with Feathers: Not Just for Flying by Melissa Stewart.  This picture book nonfiction title shares some of the unique qualities of feathers.  With a scrapbook-like illustration style, each page provides a line of bold text, with smaller text to give more detailed factual information.  Illustrations show the bird and the object their feathers are compared to.  I like that the feathers are compared to objects which could lead to further discussion between reader and listener.
"Feathers can dig holes like a backhoe…or carry building supplies like a forklift."  There are swallows who use the feathers on their lower legs to dig tunnels; and there is the lovebird who puts nest materials under her rump feathers.
I was fascinated by all the ways that birds use their feathers and I'm sure children will be, too.
The young ornithologists in your life might also enjoy these new titles:

Mama Built a Little Nest by Jennifer Ward
Have you Heard the Nesting Bird? by Rita Gray

Nest by Jorey Hurley